Spite Box
is the home to projects created by Syp. While technically launching on June 18, 2015, the first comic,
Interestingly Strange
, wasn't posted until July 1, 2015. There have been a number of additional artists who have contributed to the site as well, listed
here
.
Team Spite Box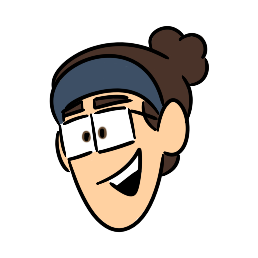 Syp is the creator of Spite Box. She is a cartoonist, video editor, and stop motion animator.
Spite Box Comics
Ongoing
• Interestingly Strange is a workplace comic strip about two employees with opposing views towards their job.
• Interestingly Strange Redux is a ghost comedy about two employees and their new manager at a haunted grocery store.
• Cleg is a space comedy about the adventures of a crew of intergalactic smugglers in the distant future.
• Tales From Outer Space is a space anthology taking place within the Cleg universe.
• Micro Space is a space comic strip about the Cleg characters during the downtime between episodes.
• Gerboni is a comic strip about a shark man and his family of wacky animals.
Concluded
• WRD was an adventure comedy about three friends who obtain a magical skull of unknown origin. Ended 2018.
• Brunette was a comic strip about a familiar brunette. Shelved 2020.
• Spite Box Pilots was a series of one-shot comics with no connection to one another. Shelved 2020.
Spite Box Videos
• Spite Box Shorts is a multi-medium video sketch comedy series with no linear plot or structure.
• Cleg is a video comic series based on the webcomic of the same name.